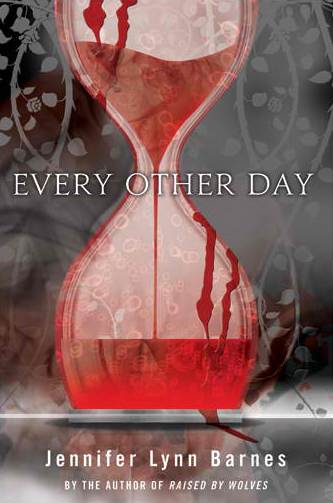 Title:
Every Other Day
Author: Jennifer Lynn Barnes
Rating: 3 1/2 stars
Summary:
Every other day, Kali D'Angelo is a normal sixteen-year-old girl. She goes to public high school. She attends pep rallies. She's human.

And then every day in between . . . She's something else entirely.

Though she still looks like herself, every twenty-four hours predatory instincts take over and Kali becomes a feared demon-hunter with the undeniable urge to hunt, trap, and kill zombies, hellhounds, and other supernatural creatures. Kali has no idea why
she is the way she is, but she gives in to instinct anyway. Even though the government considers it environmental terrorism.

When Kali notices a mark on the lower back of a popular girl at school, she knows instantly that the girl is marked for death by one of these creatures. Kali has twenty-four hours to save her and, unfortunately, she'll have to do it as a human. With the help of a few new friends, of course.
Review: I found this book on my Goodreads Recommendations, was drawn in by the cover, read the summary, and knew then and there that I had to read this book. In Kali's world (it's still Earth, mind you)
everyone knows about hellhounds, kelpies, griffins, and the like. They're in zoos and some are even on the endangered species list. Kali, when she's not a human girl, hunts them. Once she hold a weapon, she knows how to use it and will never lose it. Her blood is poisonous to the preternaturals (a.k.a hellhounds and such) and she heals crazy-fast, as long as she doesn't turn human too quickly. The chupacabra bite increases her powers, and leads Kali to wonder just what exactly she is. Practically no romance, thank goodness!, but I felt it ended too quickly. Also, the big twist at the end of Chapter 24? I totally called it back when they first introduced the character. All Barnes had to put was the click, click, click of the heels, and I knew it. Only 3.5 stars, but a definite you-should-read-it book.