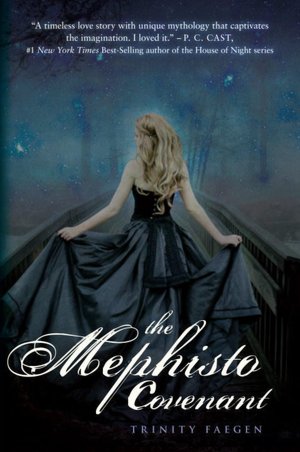 Title:
The Mephisto Covenant: The Redemption of Ajax
Author: Trinity Faegen
Rating: 3 1/2 stars
Summary:
Sasha is desperate to find out who murdered her father. When getting the answer means pledging her soul to Eryx, she unlocks a secret that puts her in grave danger--she is an Anabo, a daughter of Eve, and Eryx's biggest threat.
A son of Hell, immortal, and bound to Earth forever, Jax looks for redemption in the Mephisto Covenant--God's promise he will find peace in the love of an Anabo. After a thousand years, he's finally found the girl he's been searching for: Sasha.
With the threat of Eryx always looming, Jax knows he has to keep Sasha safe and win her over. But can he? Will Sasha love him and give up her mortal life?
Review: I know I'm always going off about how I can't stand romance, but that's really just me being annoyed that what seems like every book has some romance. When it's in a well-written book, I can take it, and when romance is all the book's about, it better be extremely well-written. I've read other stories about fallen angels and creatures of Hell, but the idea of the Mephisto is something I've never heard of before. I found it hilarious that Jax and his brothers' signature outfit was a black trench coat. Apparently when they go hunting lost souls, they all go in matching outfits, which include the trench coat. If I had seen them, I would have laughed out loud. :) I liked how Sasha wasn't constantly throwing herself at Jax, as so many female characters do to the romantic interest. Also, she develops super-strength and is able to defend herself without having to rely on a guy. I thought Melanie was just a little too psychotic to be a believable character. If I ever find the second book (when it comes out) I'll probably pick it up.